[Advertisement] Upon invitation of MS Europa 2 & Hapag-Lloyd Cruises. However, my opion is 100% mine.
"Welcome back on board of the MS EUROPA 2. I hope you've enjoyed your day trip in Rhodes. The departure time for today is going to be 11:30 pm. We'll head onto Santorin, which we'll reach at around 7:30 am. I wish you a pleasant evening. Your captain Christian Van Zwamen"
My very first cruise! I've been excited for weeks. I love to be on the water, of course, also in the water. Even as a child, I loved the ferry crossings from Genoa to Sardinia. The few hours on board were always very exciting. Actually, I've always wanted to work on a cruise ship after finishing school. Still, I don't know why I didn't jump at the chance and went to see the world. Ever since I was on the MS EUROPA 2, I'm taking going on board into consideration.
Destination: Greece – from Rhodos to Santorini, Naxos and Nauplia until Athens
Welcome on board of the MS EUROPA 2
"The lifestyle-oriented EUROPA 2 is a modern, casual luxury cruise ship. It has eleven decks, whereof most are suits with their own veranda terrace and a minimum size of 28 squaremetres. Overall it has the largest ratio of space per passenger of all cruise ships". This description sounded promising. Of course, many people link cruise ships with quite an older clientele. However, I found out that there are cruise ships for whatever you desire and for every age group. One thing was clear right from the start: I felt at ease immediately on board of the MS EUROPA 2.
Arrive, ship, enjoy!
Luckily, we'd already arrived a couple of days before on Rhodes. This prevented to wake up way too early on the departure day. In general, I highly recommend to arrive at least one day earlier so that you can also enjoy your first destination and have a full day. As a matter of fact, shipping takes some time: security checks, x-ray or the transportation.
The journey of the other passengers had already begun two days before. Therefore, we didn't have any long queues for the check-in. We arrived at 11:30 at the MS EUROPA 2 and moved into our lovely veranda suite.
I'm going to make a Cruise beginner guide too. (update: up here)
… 
The Veranda-Suite
"the higher the room, the higher the suite class"
The MS EUROPA 2 has 251 suites in eight different classes (28 – 99m2). We checked into a 28m2 veranda suite.
The MS EUROPA 2 Veranda Suite includes:
free minibar
daily refilled fresh fruit
internet connection via WIFI (billing separately)
Tablet-PC
Equipped like a classic hotel room, the veranda suite has a bathroom, dressing room, sleeping area, comfortable living area with sofa and TV plus a veranda of minimum 7m2. The only part where I've realized that we were definitely on a ship was the step to the bathroom and the doors. I had packed a lot for that week on board and I immediately filled the small dressing room – a dream! I'd definitely brought too much that it would get tight for a partner :-)
Tip: On many itineraries an open-air cabin is organized allowing passengers see suites of other classes. Next time you can reward yourself with a little upgrade. Phil has written here in greater detail about the Grand Ocean Suites!
1.000m2+ WELLNESS AND FITNESS
Towel reservations are not necessary on board of EUROPA 2! As I said, the cruise ship offers the greatest amount of space per guest. On deck 8, there is the large salt-water pool, which can be covered quickly if the weather gets worse. On deck 9, there is also a Jacuzzi and other loungers.
As soon as I got on board and saw all the great food I had to start to work out a bit. It was very beautiful to run on the treadmill and looking onto the blue water was so beautiful. Well, working out with a view is even more motivating. The fitness studio is not too big and one day it was very crowded. however, you'll find everything you need. Moreover, they offer daily courses in the morning and during the day.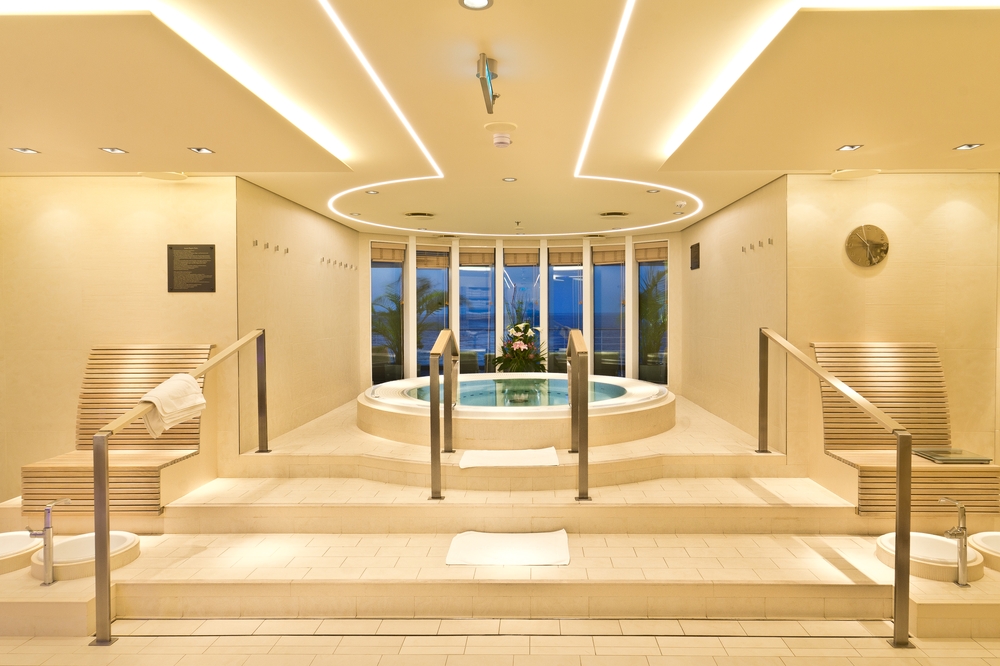 photo: Phil Klever / Killerwal.com
Visiting the captain
We've got a little glimpse behind the scenes. Captain Christian Van Zwamen told us more about the MS EUROPA 2 but also about his life aboard. Together with his colleague, they alternate their shifts. Sometimes both of them are aboard. However, three months in a row is the longest that he would be on the cruise ship. Understandable, because the crew is separated a long time from family and friends. For this reason, many couples are also part of the crew. This makes working and travel even more fun!
who needs a drone – from the ship we were high enough to have a great view onto Rhodes!
Food on board
Eating and fitness is a big topic aboard! Of course, it is hard to resist all the good food and try to eat well balanced. The MS EUROPA 2 has seven restaurants and six bars.
Breakfast on the terrace or veranda
Breakfast can be ordered either daily in the yacht club or from the suite with room service, where it can be enjoyed on the veranda.
a must in the morning: a fresh pressed carrot juice with oil and pineapple juice
breakfast & lunch at Yachtclub
the view during lunch from the Yacht Club
Lunch at YACHT CLUB
Many guests return on board at noon. Food is all included and you'll be spoiled rotten also during lunch. For example, you'll find a large buffet, pasta & pizza station or grill station at the yacht club. Of course, we also always returned for the great view onto the Greek islands from the terrace.
For the small hunger in the afternoon, you can order à la carte in the Sanzibar or at the pool bar.
Amandine & moi – cheering to over four years of friendship and our first trip together
French restaurant TARRAGON
Asian restaurant ELEMENTS
Restaurant WELTMEERE
Sushi Restaurant SAKURA
Excursions ASHORE
How do you get ashore now? As soon as the ship is laid out in the morning, you'll be brought by a tender onshore (transport between land and ship). The EUROPA 2 offers numerous activities on land – from the classic sightseeing tour to the sporty bicycle tour. The excursions can be booked in advance and then finally confirmed on board.
our cool blogger crew
Trouble Triple – 
I wish you a wonderful day!